Senast uppdaterad: 2008-06-23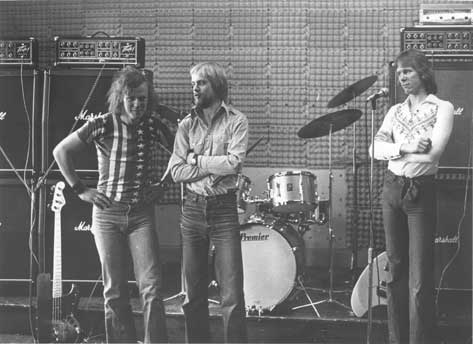 Atmosphere In Rock - 1977. Från vänster Ulf "Flu" Davidsson, Lars "Follan" Follstedt och Åke Hedman
Atmosphere In Rock var det första hårdrockbandet i Edsbyn. Den första sättningen bildades i början av 1975 med Åke Hedman på gitarr och sång, Tommy Lindberg bas och Lars Follstedt trummor. Musiken var tung och melodisk med flera låtar med driv i. Replokal var gamla Södran i Edsbyn där vi hade de flesta av våra fans.
Den mest avancerade låten "Lead" spelades i P3:s "Bandet Går" den 5:e mars 1977. Stefan Wermelin, som fortfarande gör radio i P3, presenterade vår musik som tung och häftig. Den största publiklåten var annars Ankan som egentligen var en parodi på Tommy Lindbergs ständiga basspel mellan våra låtar när vi uppträdde. Gert-Ove "Fjärten" Thynell spelade bas och gitarr under en tid i slutet av 1976.
Den slutgiltiga sättningen under 1977 bestod av Åke Hedman gitarr och sång, Ulf Davidsson bas och Lars Follstedt trummor. Trion hade en stark instrumentering med 6 Marshallådor, 3 Peaveyförstärkare på 220 w styck samt Premier trummor och Zildjian/Paiste cymbaler. Atmosphere In Rock hann med ett tjugotal spelningar på diskotek och skoldanser varav de mest kända var på popgalan i Voxnabruk med Neon Rose 6 juni 1975, Musik vid Ljusnan på Långnäs 14 juni 1975, Qul i Byn vid Hembygdsgården 18 juni 1975 och popgalan i Voxnabruk 17 juni 1977. Bandet omgrupperades i slutet av 1977 och upplöstes i början av 1978 då medlemmarna gick civila karriärer till mötes…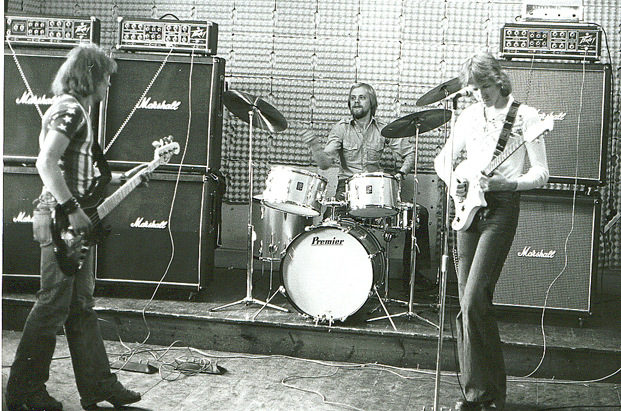 Från vänster Ulf "Flu" Davidsson, Lars "Follan" Follstedt och Åke Hedman
I januari 2003 tog Åke Hedman, Ulf Davidsson och Lars Follstedt upp den blytunga tråden igen och efter 26 år känns det som om vi aldrig slutat spela.
Efter att ha repat många gånger under vintern/våren gjorde vi vår första konsert på 26 år vid Woxstockfestivalen i Edsbyn den 5 juli. Vi kände en enorm spelglädje och vår Loud & Heavy Show blev succé! Reunion 2003 var ett faktum!
Woxstock gav mersmak och Atmosphere In Rock var initiativtagare till Edsbyns första hårdrocksfestival den 1 november 2003 på Folkets Hem. Voxmusik var arrangör och fem band spelade tillsammans med Atmosphere In Rock. Atmosphere har även varit in i en skivstudio 23-24 oktober 2003. Hoppas vår återförening inspirerar andra gamla musiker att ha lite kul tillsammans!
Vår främsta uppgift idag är att med denna sajt levandegöra rockens historia och nutid i vår fina bygd.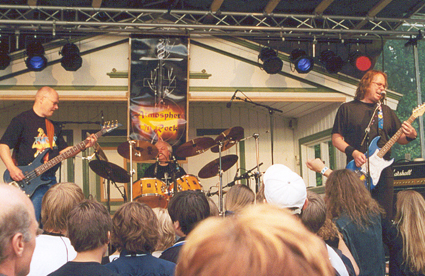 Atmosphere In Rock - 2003
Atmosphere In Rock was the very first Heavy Rock Band in Edsbyn. The first members in the beginning of 1975 were Åke Hedman singer and guitars, Tommy Lindberg bass guitar and Lars Follstedt on drums. The music was heavy and often with urge melodies. We had rehearsals in the old school building called "Södran" where we also had most of our fans.
The most advanced tune was "Lead" and it was played on the Swedish Radio program called "The Tape Is On" the 5:th of March 1977. The program leader Stefan Wermelin, who even today are doing radio programs, presented our music as heavy and violent. Our greatest hit was "The Duck" which was a parody of our bass player Tommy Lindbergs constant bass playing between our tunes when we performed. Gert-Ove Thynell played bass guitar and guitar during a period in the end of 1976.
The final setting of Atmosphere In Rock during 1977 were Åke Hedman singer and guitars, Ulf Davidsson bass guitar and Lars Follstedt drums. The trio had very powerful equipment with 6 Marshall cabinets, 3 Peavey amplifiers at 220 watts each and Premier drums and Zildjian/Paiste cymbals. Atmosphere In Rock managed about twenty performances at discotheques and school dances of which the most well-known were at the Rock Festival in Voxnabruk with Neon Rose the 6:th of June 1975, "Music by the river Ljusnan" in Bollnäs 14:th of June 1975, "Fun in the Village" in Edsbyn the 18:th of June 1975 and the Rock Festival in Voxnabruk the 17:th of June 1977. The band members changed in the end of 1977 and disbanded in the beginning of 1978 when the band members went on to civil careers...
In January 2003 Åke Hedman, Ulf Davidsson and Lars Follstedt have gather the heavy steel wire again and after 26 years it feels like we never have cease playing.
After several rehearsals during this winter and spring we made our first live show for 26 years at the Woxstock Festival in Edsbyn the 5:th of July. We felt enormous pleasure to play again and our "Loud and Heavy Show" was a great success. The reunion 2003 of Atmosphere In Rock was completed!
This Internet homepage is about rock bands in Sweden's largest village, Edsbyn, during the 1960:s until this day in 2008. Edsbyn has 5 000 inhabitants and is situated in the middle part of Sweden in the county of Hälsingland. If You are living in the U.S. and Your ancestors have emigrated from Sweden before 1930 You can contact our Migrant Center in Alfta at www.migranternashus.se for information.
If You like You can write a message in our "Gästbok" = guestbook.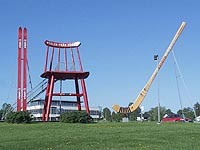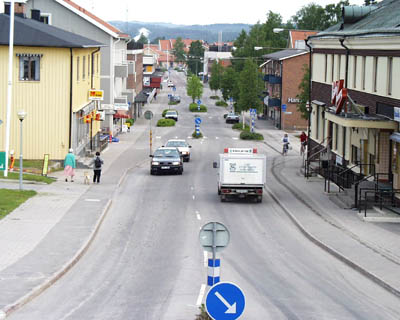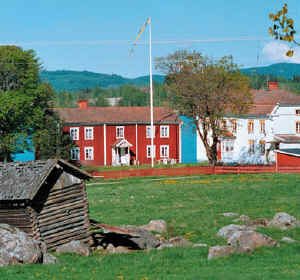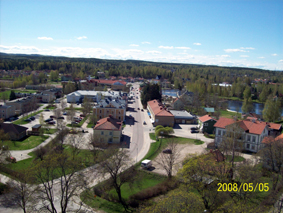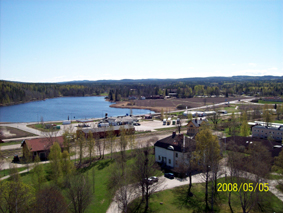 Pictures from Edsbyn: The largest skies, chair and bandystick in the world, the Main Street and countryside "Älvkarhed". Pictures by Jens Olsson and Kjell Gyllenswärd.
Pictures from Alfta Church Tower: The Main Street in Alfta and Church pond by Tommy Nirs 2008/05/05.